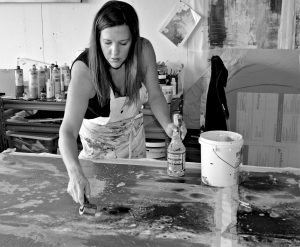 Born in Chicago, Ill., but was transplanted to Arizona as a young child.  Nancy Ngo grew up learning an appreciation for contrasting landscapes. She developed an eye for the difference in the way light reflects on different terrains in the country. She was fascinated with light and color and started to experiment with painting and photography in high school.  Nancy returned to Chicago after high school and became immersed in the diverse art and culture of the city.  Ngo received her Bachelor of Fine Arts degree with an emphasis on Painting and Art History from The School of the Art Institute of Chicago.  She has been cultivating a personal body of work since graduating from the School in 2001, drawing inspiration from a rich variety of intellectual and aesthetic sources. Once again, she returned to Arizona where she resides with her culinary artist husband and their three daughters.
Nancy's awareness of the play of light and shadow and its effect on color plays an important role in her work today.  The dichotomy of the natural desert landscape of Arizona versus the urban downtown environment of Chicago led her to a certain "no rules" style of painting.  Currently her paintings are highly textured, raw, and sometimes unfinished quality in which the work holds a kind of potential energy and freedom.  She often creates problems on the canvas, then, through her painting solves them.  With every painting, there are an infinite number of approaches and decisions to be made.
This interconnectedness bundle together in Nancy's unique artistic identity, an aesthetic that she nourishes with an intensely concentrated studio practice and an obsessive collection of resource materials. The latter includes original photographs and magazine clippings and texture making tools that Nancy takes and studies. Among the collection are images that consider the textures of nature's different elements, fabric swatches, architectural images as well as what others would discard as garbage, old leaves and plastic packing materials with interesting patterns. Many of Nancy's recent paintings are derived from her vacation photographs of the sand and the sea. These inventive pieces, which introduced a roughness and asymmetry into her work while retaining a pattern are gradually evolving and subject to interpretation. Nancy has created a world all her own from fragments of the world around her. Ngo continues to explore new avenues in her work, even with new materials.  She is fascinated by the discoveries made while creating each new piece of art, and allows her style to change often in order to keep her painterly freedom.