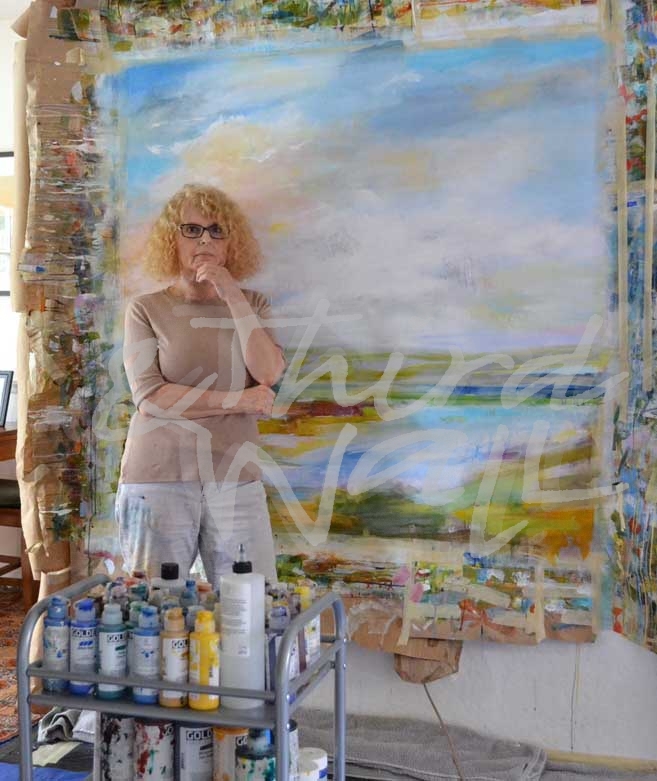 Jill Martin's ethereal imagery is bright and soft, glowing with clean hues and a dreamy appeal that few can resist.
What do you first do when you get to the studio in the morning?
Check my email, read some news, then spend some time cleaning up my painting table which I always leave messy from the day before.
 How many paintings do you work on at a time?
I'll prep several canvases at once, but I tend to focus on just one or two paintings at a time.
Do you have a dream project that you would like to work on?
To paint 5 or 6 large paintings of different types of couples.
If you could paint with anyone, who would it be?
Very hard to choose. I could learn so much from Alex Kanevsky, Julie Heffernan, and Kent Williams.
Is there an idea you would like to explore?
How to paint the figure not in an impressionistic or gestural way but like a blurry photograph. – early Gerhard Richter's work.
What is your favorite time of day to paint?
I'll paint whenever, but the light in the studio is usually best midday and afternoon.
 Do you ever get "stuck" on a piece? If so, what do you do?
Yes, I do get stuck sometimes and keep redoing areas over and over. At that point I have to not look at the painting for a few hours or a few days. Then when I go back to it I have a fresh perspective which hopefully makes it easier to see what needs to be done.
 What is up next on your easel?
A large abstracted landscape.
Jill Martin's original works, posters, and print-on-demand imagery are available from Third & Wall Art Group. All images © Jill Martin and published/distributed by Third & Wall Art Group.