After a cold winter season, we are so ready to welcome the warmer days of spring (anyone else?) and are continually inspired by the statement florals making a big impact in interior design trends!  Adding floral prints to your walls, couches, rugs, or anywhere else in your space is a perfect way to refresh your interiors, especially with spring on the horizon.  Florals can bring some life and natural beauty into your design (without worrying about watering it!) and we are excited to share a few tips for incorporating some blooms in your space!
Find Your Style
Whether you prefer modern & contemporary or classic & traditional interiors, florals can work with any design style!  Because floral prints can be as unique as flowers themselves—from delicate blooms to abstract petals—incorporating blossoming imagery doesn't always mean your space will be too feminine or traditional.  Modern florals can bring a bold energy to your design, and classic patterns can add the perfect vintage touch to a space.  No matter your style, floral images can add a cheerful note and wake up a relaxed space.
Mix & Match
Floral imagery is a great way to add splashes of color to your space, in small or large doses.  From pillows and rugs to small accessories, there are many ways to mix and match floral prints.  If you have one floral focal point, such as a sofa or statement wall, try offsetting it with clean lines, modern elements, and a neutral color palette for a chic and eclectic space.  And pairing prints and patterns can add even more playful notes to a design, but unifying color palette is key to making sure your vibrant space stays cohesive.
A Wall of Flowers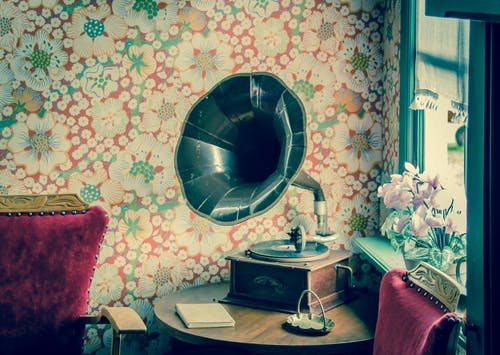 Framing some floral artwork is a great way to freshen up your space, especially if you want to ease into the floral decor.  For those who want to go bold, a luscious wallcovering or wallpaper can create an elegant statement, whether you do a whole room or just cover one wall.
However you choose to incorporate florals into your design, they are sure to bring the warmth and cheer of spring to any room!
The images featured above are available in our Print-On-Demand collection. Some areas of our website are password-protected. If you are a member of the trade but don't have full access to our website, www.thirdandwall.com, please contact us at customerservice@thirdandwall.com.