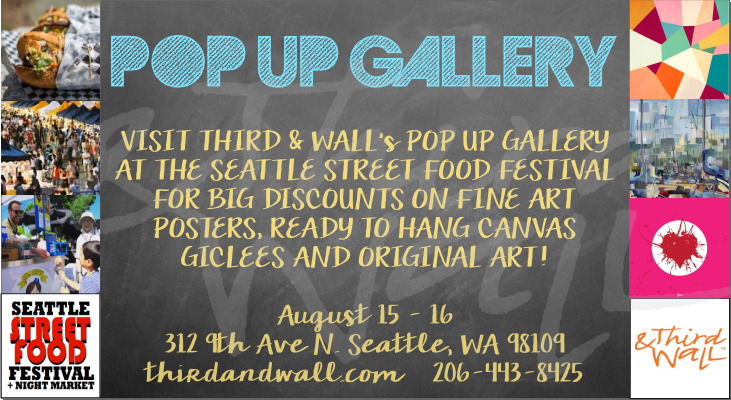 During past summers, the Capitol Hill neighborhood has hosted the annual Seattle Street Food Festival. This year however, the festival was relocated to South Lake Union to make room for a growing number of foodies and food vendors. Third and Wall's address just happened to be located right in the middle of everything, so we decided to host a Pop-Up Gallery over the weekend.
We weren't sure what to expect and assumed people would largely show up to eat. Our pop up gallery was also out of place among food trucks serving everything from wood smoked barbeque to vegan tacos. But even before the festival officially kicked off, we realized that people were hungry for something else – Art.
With the smell of bacon-sprinkled donuts wafting over from the food truck parked a few feet away, we introduced festival-goers to Third & Wall's collection. Boys of all ages were drawn to KC Haxton's poster "Autobahn" and Joseph Cates' "Guitars I". A young woman visiting from out of town spent twenty minutes debating whether she'd be able to get a gallery-wrapped image of "A Charmed Life" by Liz Jardine back home with her to Austin.
After admiring a flushmount of Sarah Stockstill's "June" for the whole afternoon, a neighboring vendor reminded her husband that today was indeed their anniversary (he hurried right over as we were closing up for the day). It's a good thing he snagged it when he did, because the next day another woman returned, inquiring about the sold piece. She wasn't the only returning customer – after purchasing two unstretched giclees on Saturday, a gentleman came back on Sunday to buy three more.
Bringing the gallery outside made the experience of choosing fine art for their homes enjoyable and less intimidating for our customers. Being able to flip through the canvas giclees and pick from abstracts, landscapes and more was unlike any experience they would have at a home furnishings store or while online shopping.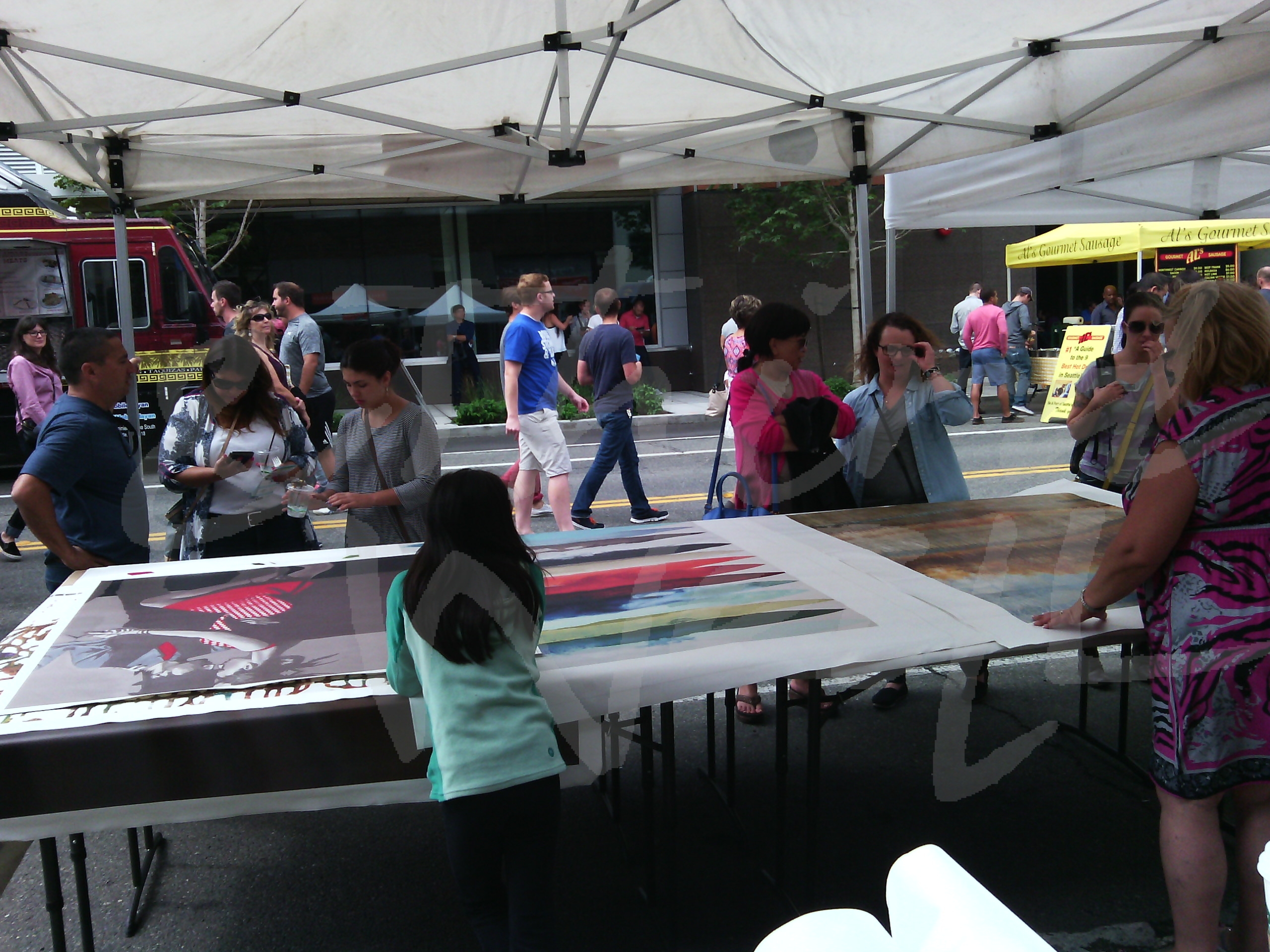 For us at Third & Wall, not only was it nice to see that our imagery was well received, but since the majority of our business is conducted over the phone and through email, it was a pleasure to be able to work with customers face to face to select the perfect pieces for their homes. We look forward to serving up some new images at next year's Street Food Festival. Stay hungry Seattle.
~ Katherine Van Henley, Business Development/Accounting Manager
Third & Wall offers exclusive contemporary and transitional imagery for wall decor and licensing, with a wide selection of Posters, Originals and Print-on-Demand/Licensing imagery.  Some areas of our website are password-protected. If you are a member of the trade but don't have full access to our website, www.thirdandwall.com, please contact us at customerservice@thirdandwall.com.