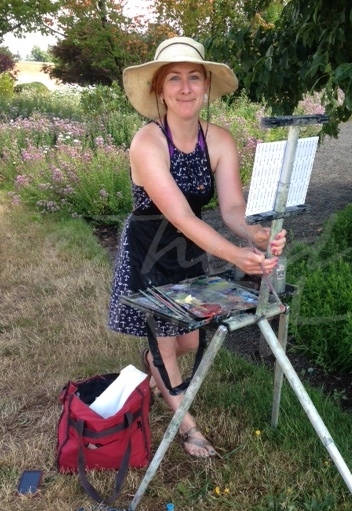 We are thrilled to announce the addition of unique Seattle talent Brooke Borcherding to our exceptional family of artists. Brooke is an up-and-coming young artist who creates fascinating deconstructed scapes that are both familiar and mystifying. Her mesmerizing contemporary works are conversation-starters and wonderful focal points for all kinds of interiors.
What do you first do when you get to the studio in the morning? I organize my work area to give myself mental space to get me into work mode. Sometimes this is half a day's work, other times I get ready the night before work so I can get right in there.
How many paintings do you work on at a time? I currently have 13 unfinished paintings in the studio! I've learned to have a bunch of canvases to choose from to match my mood. I think paintings and life have a lot of overlap, so in those moments when I'm energized I may start 3 new pieces. If I feel grounded and calm, I may focus more on detailing and finishing so I can check one off my list.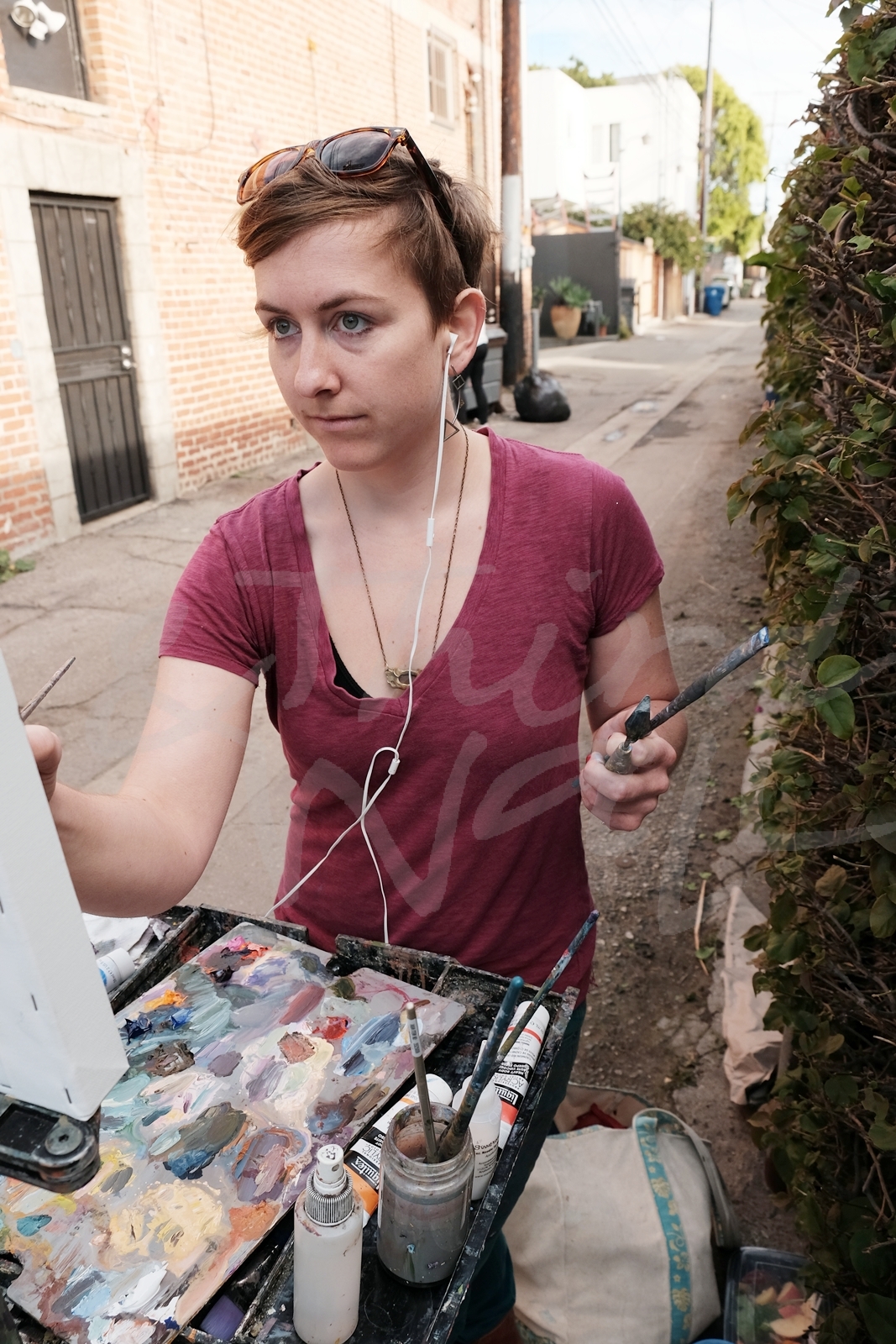 Do you have a dream project that you would like to work on? My dream project sounds exhausting so it's kept as a dream, but it would be really cool to collaborate with an installation artist and a computer programmer to make one of my paintings into a 3-D walkable place. I envision slabs of colored paper hung on strings across a sidewalk that would emulate the blocks of colors I have in my pieces, going down the street so that at the end of the street you look down and see a cohesive scene.  I play with idea of perception and space in my paintings and would love to see it come to life.
If you could paint with anyone, who would it be? I've never considered this possibility because I find studio painting to be such an introverted activity – everyone has their own way of doing things. But I suppose I would watch some of the masters who come out of San Francisco's Academy of Fine Arts.
 What's your favorite way of generating ideas and inspiration? There's too much inspiration so I make lists to limit myself.  I travel to natural and urban places, paint on site, and take photos.  Once I start writing stuff down I can see that there's obviously too much to chomp on.  But sometimes I abandon the list and just throw some paint up on a canvas anyhow and add it to the pile of works in progress; that way I can't abandon that idea.
How has your art evolved over time? I'm a cyclical person and see that sort of cyclical pattern in my work. I originally started painting with blocks of color as an experiment in college.  Then I went the other direction and took the traditional approach to painting by studying from nature with my easel outdoors.  Last year I got back into the studio and started to play with the blocks again.  This year I've been tweaking this new style.
As a young artist I'm super curious to know how what I'm doing now will affect my future work, or what it will look like.
What do you like most about your work? I like that I'm doing something unique – the people who walk into the gallery are drawn to my work because it's something they haven't seen before. I think by not taking any workshops and being fully self-driven, my independence has enabled me to have work that is truly my own, something that is unteachable.
What is one word that best describes your style?  Deconstructive.
Is there an idea you would like to explore?  I'm already doing it.
What is your favorite time of day to paint?  Late at night (or early in the morning depending on how you look at it).  I love when the city is asleep because I finally feel the freedom to do whatever I want and truly focus with no distractions.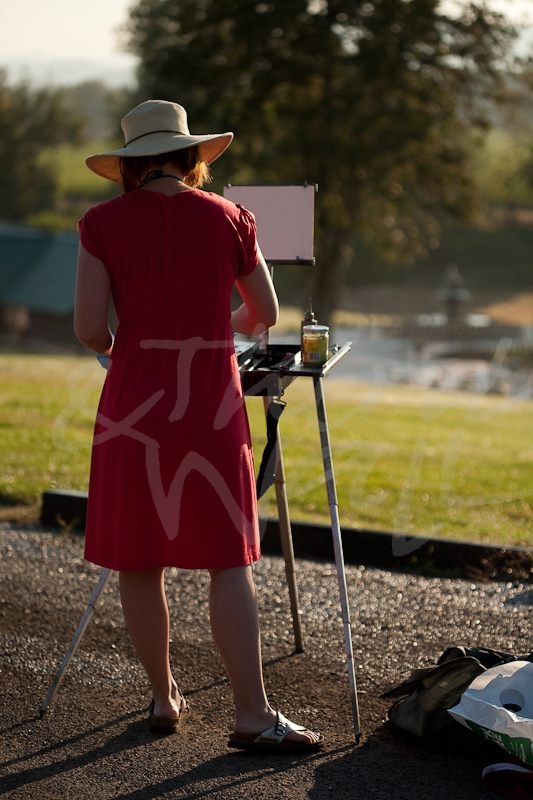 Do you ever get "stuck" on a piece? If so, what do you do?  Just walk away and let it sit.  If you don't have a definitive idea of where to take it, just put the brush down.  Come back to it later with fresh eyes.
What is up next on your easel? A Canyon scene of Eastern Washington– it's a challenge and experiment after working on so many recent urban scenes.
Brooke's image collection can be viewed in the Print-On-Demand section of our website. Some areas of our website are password-protected. If you are a member of the trade but don't have full access to our website, www.thirdandwall.com, please contact us at customerservice@thirdandwall.com.